Wellbeing
THRIVE | Positive Education
Our school is totally committed to ensuring the health, safety and wellbeing of every member of our school community. Langwarrin Park Primary School has partnered with Elisabeth Murdoch College, Langwarrin Primary and Woodlands Primary to create the Langwarrin Positive Education Network. Together, we strive to improve wellbeing at a school and community level. Access our Wellbeing booklet at this link.
Positive Education brings together best-practice teaching with the science of Positive Psychology, to help all students reach their academic and personal potential. Based on the research, we have developed 'THRIVE'. Our THRIVE model outlines 6 simple actions you can take to build robust levels of wellbeing, which are:
TRY your best, be HEALTHY, RELATE well, get INVOLVED, live your VALUES, ENJOY positive emotions.
To learn more about THRIVE visit our website and follow us on Facebook.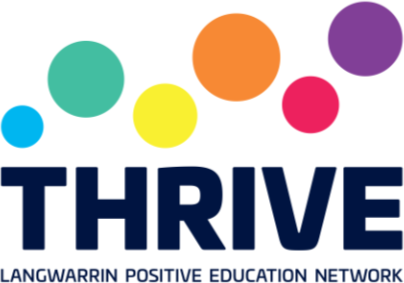 For those students and families that would like some support please follow the links below to a range of information and strategies
We are a Respectful Relationships School – At LPPS we deliver the Respectful Relationships curriculum across all year levels through our THRIVE lessons.
The Respectful Relationships program supports schools and early childhood settings to promote and model respect, positive attitudes and behaviours. It teaches our children how to build healthy relationships, resilience and confidence.